Testimoniales of Meetings
Testimoniales of Meetings
One of my friends whom I will call Rose wished us to pray a novena for the person God would give her ...
At the end of the nine days, August 26, 2016, we had hardly finished our common prayer,
that a message from Mariella ("Mary is here") reached me from Italy.
She explained to me that she had reunited with a childhood friend who was passionate about Medjugorje like me and she told him about the song 'Emmanuel'
that I had discovered there and that she had interpreted at my wedding for the entrance of the bride and groom ; we don't know the origin of this song :
That evening, Mariella's friend introduced her to a member of her prayer group, Tony Nevoso, author, composer and singer !
Heaven had heard us and sent an image associated with the word MARRIAGE !
Some time later, we made a new novena ...
During this time, as my friend joined us at our prayer group, a man we did not know also walked up to the church altar :
they both entered at the same time and side by side like a very smiling couple entering their wedding.
Once again, Heaven had heard us and sent an image associated with the word MARRIAGE !
Then time passed and my friend made a meeting. We then began together a new novena ...
In a church, Emmanuel writing in a small notebook lying there that he would like to spend his life with her !
He also prayed that God would help him forget all the other women.
Once again Heaven had sent us a picture of a declaration of fidelity as practiced at the time of MARRIAGE !
At the same time, a person around me who was starting a process of reconciliation and conversion ...
Here he is in Medjugorje at the top of Krijevac : "Lord, please don't send me any more! "
Immediately in his heart reasoned, "I never sent you anyone",
followed by a vision of the past, drinking with friends and proclaiming : "me, for woman, I want one… and let it be seen !"
Shaken, he said spontaneously : "Uh ... So yes ... if you want to give me someone ... But let her not want this, that, or this, and that ... "
Back home after this pilgrimage, a young woman offered him an outing. He accepted it very cautiously ...
To his surprise, she told him that he didn't need to worry because she didn't want this, that, that, and that, and that !
Then the couple went to Medjugorje and, back, during an adoration, each had the grace to see Jesus in the Blessed Sacrament :
Jesus appeared in bust and according to the representation of the table of Divine Mercy which includes the inscription "Jesus I trust in you".
He extended one arm to the woman and the other to the man.
Once again, Heaven sent an image associated with the word MARRIAGE, union between man, woman and Jesus !
Finally, I share with you the Meeting that Heaven led me to do at the same time as the discovery of Tobias and Sara...
In this biblical story, an angel disguised as a man led Tobias to Sarah...
In mine, a certain gentleman 'Sainte-Apparition' has joined our team in my department...
Sarah had been given to me during this time via signs from Heaven ; I only knew Abraham and Sarah...
In the spring of 2006, the department in which I worked recruited a young intern from among three candidates.
When Alain came to tell me the name of the person selected, a phrase echoed inside me: "Listen carefully to the name!" "
Surprised by this word, I made myself very small in my chair and then asked : "What's his name? "
He was a young Spaniard whose name meant "Holy Apparition".
He was from the class of S 3 S 'in the school attached to our services:' 3 S 'or 'three times holy' ?
His first name, Jorge, corresponded to the first name of my godfather who died during this period...
But it was also the first name of the one who would become Pope Francis, thus evoking the Heart of the Militant Church.
The young man explained to me that his name had been made up by those of his father and his mother because of their MARRIAGE.
The first contract of this young intern ended on Saturday August 5, 2006 :
This day was revealed to be special in Medjugorje as the actual date of the Virgin's birthday.
And it was also the occasion there for the annual youth festival which I had participated in on my first and unforgettable pilgrimage.
It is therefore a date directly associated with this place of extraordinary Marian apparition.
Jorge subsequently had other contracts : their end date was always set for August 5.
Indeed, when the end of his last contract came, I realized that I had not introduced Mr. 'Holy Apparition' to Rose !
So I suggested to my great friend to join the young man at a table in the cafeteria at lunchtime ...
It was without counting the name that had been given to me as the title of my personal book: 'around the same table' ...
And at this table, after the introductions were made, Rose's brother came and sat down next to her.
He was accompanied by one of his buddies, Roa, who sat down next to me.
When I returned to my office, Roa had followed me !
During this meeting, I was intrigued by several signs ... Before he left, we had agreed to meet the following Saturday.
That day, we were February 2, 2008 : festival of candlelight (from the word candle or light).
The roundness and color of the pancakes associated with this festival represents the spring sun that returns once winter is over.
This day is also celebrated the presentation of Jesus in the temple :
Jesus who is the Light of the world : winter was over and light was returning to my life !
The pancake remind eucharistie : God's table wich is the holy mass...
Through these two images, 'around the same table' and 'at the table of God who is at Mass',
once again Heaven had heard and sent an image of MARRIAGE :
God sits down at our family table and invites us to share his !
On february the 2nd, consacreted are celebrated : husbands and wifes, priests, sisters....

God will not necessarily give us someone easy-going, neither according to our selection criteria or our judgments:
He makes us meet the person who is for us in His Creation, for our Joy and that of ours.
So let's go without hesitation from a life that we have built for ourselves according to our own will,
That is to say without having sought what was the Will of God for us, to the Life he has planned for us ...
For the Creator knows His Creation and He wants it the greatest good, but he can't act in our lives if we don't want to, because he created us perfectly free.
And so, one day soon, we will be able to proclaim :
SEPARATIONS, DIVORCES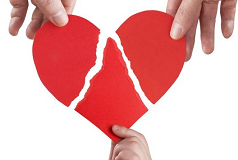 NEVER AGAIN !